Professional Tree Surgery Services In Swindon
Carl's Garden Maintenance provide a range of tree surgery services in Swindon and Wiltshire. Carl served his tree surgery apprenticeship with local company, Tree Top Services. There he graduated through the ranks and earned the required industry qualifications and insurance to provide tree services to his clients.  
Carl's services include:
Hedge-trimming
Felling
Stump Grinding
Pruning
Review Carl's Services Below
From hedge-trimming to lopping, below we'll outline our core tree services. If you require any further information don't hesitate to contact us.
Hedge Trimming
While hedge trimming may appear a simple task, it can be physically demanding and dangerous to the untrained hand. While a seasoned DIY effort can be proficient, we'd recommend putting safety first. A good surgeon knows how to trim at the right depth and when to allow a hedge to flower. 
Lopping
Whether your tree is Silver Burch, Oak or another popular species, it will require lopping from time to time. Lopping for those unfamiliar with the term, is simply removing unruly branches. While there is the temptation to 'hack' away at these protrusions, doing so may affect the future growth of the tree. We offer a professional perspective. 
Garden Clearance
Whether our team are executing hedge trimming or tree felling, every job is inevitably followed by garden clearance. We remove all twigs, branches and debris with minimal disruption to your home. Every so often we'll remove furniture and other items at the request of our clients too.
As ever, we reward long standing customers and senior citizens with reduced rates.Carl and the team work in Lydiard, Highworth, Eldene, Walcot, Old Town, Park South and North and deep into the heart of Wiltshire to ensure our clients receive a comprehensive garden service at competitive rates. 
If you'd like an in-person quote, or you'd like to chat about our services and rates over the phone,  don't hesitate to get in touch. You can also reach us via our contact page. Return home by clicking this link, http://CarlsGardenMaintenance.co.uk/.
Your Questions:
Do you offer an in-person viewing or will an image suffice?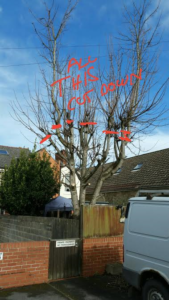 While images certainly help, we prefer to visit before offering an estimate. Access, power-lines and other fixtures  may play a role in the job and we want to ensure every angle is covered. 
How do we check for TPO's (Tree Preservation Orders)? 
You can check for TPO's via Swindon's local government site. However, we can do this at your request.
Why should we opt for a qualified arborist?
Tree surgery can be hazardous to your health. Even if the tree, hedge or stump in question is innocuous the tools of the trade are best handled by the professionals. 
… Any further questions?
Please contact Carl today on 07954 617321.